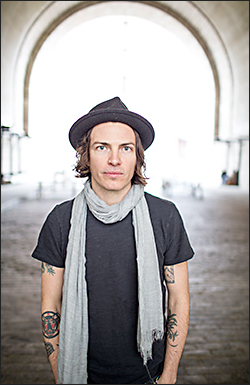 Clarence Bucaro's "Pendulum", the new album from the Brooklyn-based singer songwriter, is a vivid set of new compositions combining beautiful craftsmanship with heartfelt intimacy. The 10 song set of original material features a blend of emotionally honest lyrics delivered by Bucaro's distinctive baritone with a rousing melodic sensibility performed live with a unique group of players.
Co-produced with noted vet Tom Schick (Wilco, Ryan Adams, etc) and showcasing Bucaro's characteristically openhearted lyrics, the compelling new album features songs like the hypnotic "Pendulum", the breezy "Girl In The Photograph" and the achingly beautiful ballad "Tragedy ". The set also features a duet with velvet voiced alt country singer Allison Moorer on their co-written "Strangers".
As a seasoned songwriter, Clarence's storytelling has never been more thoughtful, and yet it retains a refreshing feeling of spontaneity. Whether from writing fiction or devouring and absorbing literature (Bucaro cites both as major inspirations to his songwriting, second only to life experience) the songs rich influences can be keenly felt. Bucaro, a Cleveland, Ohio, native, spent periods residing in New Orleans and Los Angeles before settling in Brooklyn, New York. With years of touring history under his belt and 9 studio albums, Bucaro has delivered his most diverse and mature album to date in "Pendulum", a collection that feels both timeless and fresh.