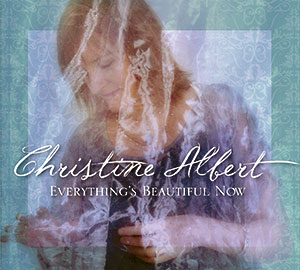 Christine Albert stands out in the Austin, TX, music scene as an artist, songwriter and philanthropist. She has released 6 solo albums including the bilingual 3 CD "Texafrance" series. With her husband Chris Gage (as Albert & Gage) she has released 6 albums including the acclaimed 2009 release "Dakota Lullaby".
Ms Albert is currently serving as Chair Of The National Board Of Trustees Of The Recording Academy, the GRAMMY organization. She is the first independent artist and only the 2nd woman to reach this position. In addition, Christine is the founder and president of Swan Songs, a central Texas area non-profit organization that fulfills musical last wishes for the terminally ill and a portion of the proceeds from the sale of this album support Swan Songs.
Produced by Chris and Christine in their own MoonHouse Studio, "Everything's Beautiful Now" features Gage's instrumental gifts on piano, B3, acoustic and electric guitars, accordion, harmonies and more. The Austin sound is reinforced by Lloyd Maines on dobro, Kym Warner (The Greencards) on mandolin, Kim Deschamps on pedal steel, bassists Glenn Fukunaga and David Carroll, and drummer Paul Pearcy. Vocalist Kira Small's harmony is simply beauful.
The Jerry Jeff Walker-Christine Albert composion "Old New Mexico" tells the true story of Christine's leap of faith when she left Santa Fe for Austin and she is joined by Jerry Jeff and Eliza Gilkyson, a close friend and fellow New Mexico transplant. "Lean My Way" revives an old Shake Russell and Dana Cooper song with duet vocals by Christine's son Troupe Gammage, lead singer of indie synth-pop band Speak.
This is not an album that a 20 year old would record, but is an authentic exploration of a rite of passage we all experience when we reach a certain age. "I needed to record these songs for my own healing. My hope is that others will also be comforted in some way".