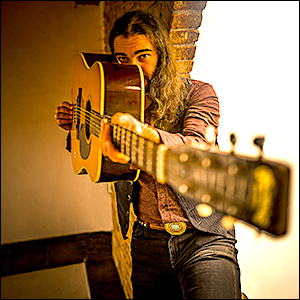 After 10 years, 3 albums and many European tours with the heavy rock band Doctor Cyclops, singer and guitar player Christian Draghi brings forth a brand new release inspired by vintage British atmosphere of artists like Beatles, David Bowie, Jethro Tull and Eric Clapton.
The italian artist puts down his debut as a singer songwriter with a record called "Black Roses & Hats", which contains 10 songs hanging in the unsteady balance between the darkness and the light, and the past and the future.
"A couple of years ago, while going through a deep personal crisis, instead of getting psychological help I started writing some songs", says Draghi. "It was pretty clear that they had nothing to do with the sound of my band Dr Cyclops, so I decided to go my own way"
.
On this album Draghi gives birth to 10 fresh songs with a 60's and 70's vintage soul. He cooked an intense mixture of different emotional moments. Every song's like a dish melting different ingredients together
.
There are some Beatle-like harmonies crossbred with some Jethro Tull taste. Early Bowie's flavours mixed with a bit of Dylan's storytelling. Lennon's exile in the Dakota Building comes after a soup made by pouring Clapton cream and bluesy vinegar. On the chef's table you won't miss a taste of crispy grunge cookies with psychedelic seasoning. On top, some groovy riffs and guitar solos in which Draghi bursts out his 70's rocker attitude. All of this is kept together by melodies characterised by the author's personal voice timbre.
A new life, a new path, with an old fashioned soul.