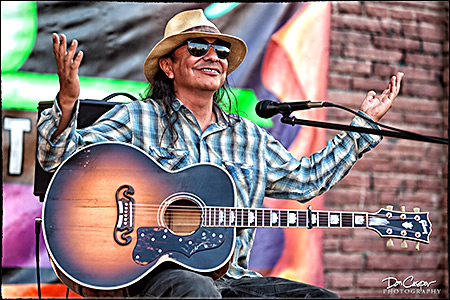 Roots based singer and fingerstyle guitarist Cary Morin announces an April 7th, 2017, release date for his 4th CD, "Cradle To The Grave". Recorded and engineered by Richard Werdes at Studio Underground in Ft Collins, CO, the new album completes a 3 album project of acoustic recordings by Cary Morin, who's been acclaimed as 'one of the best acoustic pickers on the scene today'.
On "Cradle To The Grave", Cary Morin brings together the great musical traditions of America and beyond like no other artist. These recordings provide a timeline of his songwriting and guitar work spanning 2014 to 2017. The lyrics range from blues to folk, and sometimes shine a light on his native american heritage and small town life in America. At times, the collection conveys the simplicity of a single chord to complex fingerstyle guitar.
"The goal was to create a sort of triptych of my solo fingerstyle journey, one that demonstrates the evolution of my progression with songwriting, finger picking, and the use of open tunings", says Morin. "Cradle To The Grave is a culmination of my musical efforts as a soloist thus far".
Of the album's 11 tracks, 8 are originals that showcase his skills as both a singer and guitar player. Also included are 3 unique covers of songs that cover a wide palette ranging from pop legend Prince, "Nothing Compares 2 U", to noted bluesman Willie Brown, "Mississippi Blues", and jam band super group Phish, "Back On The Train".
"The title track is a bit telling", relates Morin. "The lyrics refer to the realization that, through all of my travels and experiences, I have come to understand that life is fleeting. I think you can hear this theme in the song, 'Lay Baby Lay', also, though this tune is more directly related to the experience of touring and travel and the compromises therein. The last song, 'Watch Over Me', is a different take on the title track, as though both songs are bookends for the whole album. The theme of spirituality seems to weave its way into my work more often as the years pass. Perhaps its impending mortality. I hope we are put on this earth to help each other and should we find ourselves alone for some reason, there is still someone there with us, a higher power to help us complete our journey".
With deft fingerstyle guitar and vocals that alternately convey melodic elation and gritty world weariness, Morin crafts an inimitable style often characterized as acoustic native americana, with qualities of blues, bluegrass, jazz, jam, reggae, and dance.
Being a crow tribal member, Morin brings special significance to the song, "Dawn's Early Light", written in support of the efforts of the Standing Rock Sioux Tribe. "I'm not really a protest song sort of writer, but this song seemed important", states Morin. "It's written from my memories of growing up near the Missouri River and around my people in Montana. As a child, I became familiar with our traditional music and rural life. This song may be an oversimplification of the situation, but I have always felt that the honoring of a treaty, no matter when it was made, is not a complex idea. History has proved this not to be the case, but I hope this time it is. Honor the treaty, simple as that".