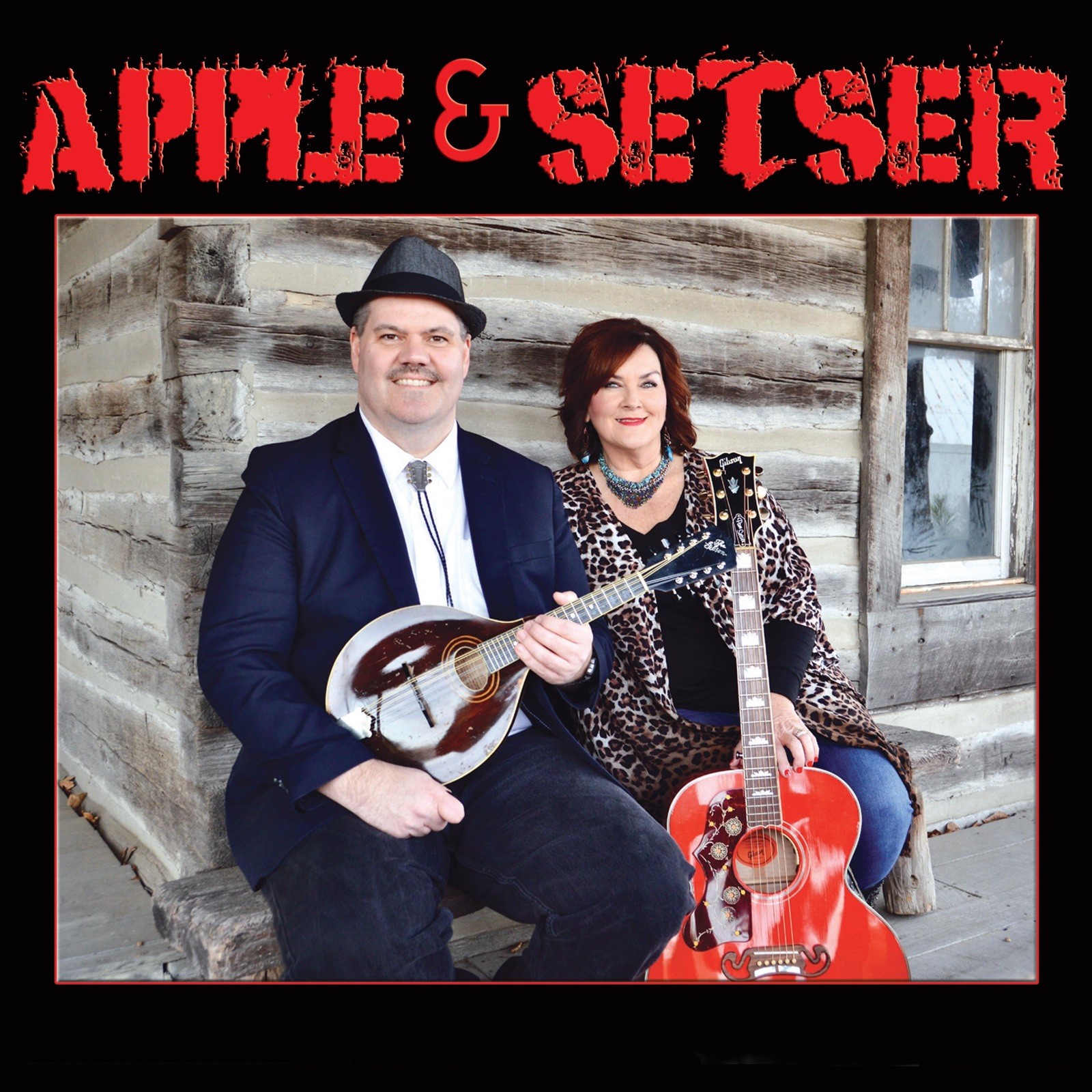 Apple & Setser, Brad Apple & Pam Setser, officially a duo since 2017, have played music together on and off for 30 years and have similar performing backgrounds in their respective family bands. Both musicians grew up playing music at the Ozark Folk Center and traveling the region performing separately. The duo regularly performs at the Mountain View Meeting Place in Mountain View, Arkansas, and travel the road to play shows and promote their music throughout the area. Apple & Setser were nominated for Best Acoustic Act for the 2022 Arkansas Country Music Awards.
Apple & Setser's self titled debut album, "Apple & Setser", is a collection of new originals, classic favorites and lesser known traditional songs that take us on a nostalgic visit to that past when songs told stories that touched our hearts and memories. The album takes us on a journey back in time with foot-stomping songs, and fond thoughts of family and friends, but also digs deeper into our souls with a few songs about lost love. Brad Apple and Pam Setser capture our hearts by producing an album chock full of the sweet sounds of acoustic stringed instruments, and the flavor of Mountain View, Arkansas, featuring notable and award winning bluegrass and gospel guest musicians David Johnson, Tim Crouch, and Danny Crawford.
Pam Setser, golden voiced singer and multi instrumentalist, based in Mountain View, Arkansas, was nominated for Americana Artist Of The Year for the 2021 Arkansas Country Music Awards. The folk, bluegrass and country singer and musician was part of her family's band, The Simmons Family Band, for 16 years. Her experiences included appearing on Hee Haw and performing for Arkansas Governor Bill Clinton. Pam has performed at the Ozark Folk Center since 1973. She also had the honor of sharing the stage with Grandpa & Ramona Jones, The Whites and Joni Bishop. Pam also performs with the Pam Setser Band, Apple & Setser, and the Ozark Granny Chicks, an old time string band quartet. Pam plays autoharp, mountain dulcimer, guitar, upright bass, and spoons. Pam's discography includes 4 albums with The Simmons Family Band, 5 mountain dulcimer albums with her mom Jean Jennings, and 3 solo albums, "At Last", "Crooked Ridge", and her most recent release on the Bell Buckle Records label, "Now", primarily originals, an americana mix of folk, bluegrass, gospel, 1930's swing, and country.
Brad Apple is a multi instrumentalist, vocalist, and songwriter with a smooth, expressive and commanding voice suited to folk, country and bluegrass. His original songs have been recorded by Auldridge, Bennett & Gaudreau, and the former members of JD Crowe & The New South, known as Flashback. Brad's podcast, Acoustic Music Talk, featuring interviews with artists and discussions about all facets of acoustic music, was nominated for Best Publication Podcast for the 2022 Arkansas Country Music Awards. Brad played in his family band for many years and regularly performs at regional bluegrass festivals and at the Ozark Folk Center State Park. His family ran The Apple Family Bluegrass Festival from 1979 to 1984. Brad was the audio mastering engineer at Raney Recording Studio in Drasco, Arkansas, for 10 years. Today, he has a recording studio where he records and masters his own projects, as well as for other artists. Brad is very involved in the music community, performing with long time friend, Pam Setser, recording, and doing his podcast.