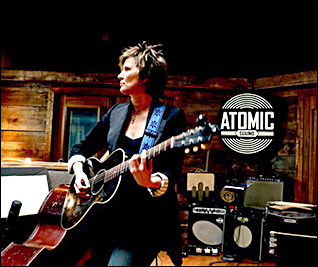 A hugely impressive body of work, 8 albums over 14 years, culminates in this acoustic mini masterpiece by Brooklyn based songwriter Annie Keating. An intoxicating mix of poetic and raw, tough and tender, Keating's songwriting is at the heart of meaningful americana music. "Ghost Of The Untraveled Road" features this seasoned songwriter at her best. The album delivers beautiful, engaging, honest and real songs.
About the new release, she shares, "These songs were born in motion, in the back of a sweltering tour rig last July, traversing 4 countries and some 7000 miles with no mobile phone service, I had a lot of time to write and think. Somehow as the miles rolled along, I collected a box full of half poems, melodies, refrains and phrases on napkins, set lists and my tour notebook. When opening that box of writings months later back in Brooklyn, I was pleasantly surprised. I picked up my Gibson guitar and it seemed like the songs were already there waiting, just hungering for the right chords".
The music and lyrics impart the feeling of traveling through new lands, unexpected surprises, a journey of longing and also letting go. The songs titles themselves voice these themes, with compelling lyrics that take the listener in and away, "From Holland to Hull, across the North Sea, with dreams of the ocean, your eyes and the deep. Travel has a way of changing time, a little more freedom the curve from a line", and from the title track, "The windows open blowing papers around, the Italian radio's playing a sad song. I understood little but felt just as much, as if I were fluent the pale music hushed. Wondering what would unravel if we dared let the string go. Busy bees in my head and a 'Ghost Of The Untraveled Road'". Other lines linger, heartfelt but not trite, honest and searching, "Shall I cherish confessions or bury them all? You wanted forever inside the lines, I wanted a moment lost in time. You like a beautiful darkening sky, your eyes they lied".
Over the course of her previous 7 full length albums, Keating has proven herself a unique and extremely talented artist. When asked about how the band recorded the album, she reflects, "When the songs took shape, I brought the band together and we had sessions by the fire at my place with acoustic guitars, mandolin and bass, no amps. Just playing acoustically in a circle and work shopping the songs, I decided that's the way we should record the album, live in a room together playing. We laid them down pure and simple together live in a former firehouse in Red Hook, Brooklyn, Atomic Sound, NY. I'm more proud of these songs than anything else I've recorded. You either capture the magic or not. For me, the sound of the band on this album is magical".