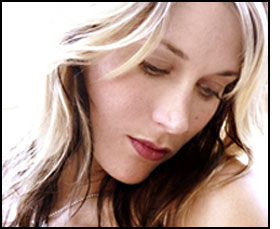 "She's got her own inner groove; nothing tentative about it. A force to be reckoned with." - Don Was
Amy Raasch's win in the 3rd Annual GINA/LAWIM Singer/Songwriter Contest for the Missing couldn't come at a better time. She is just finishing up her debut album, which will feature her winning song, "Missing:" the story of a missing child told from the perspective of the child's best friend. Likened to songwriting powerhouses Joni Mitchell, Ryan Adams, and Jane Siberry, her debut is an organic, intimate exploration of love versus independence.
"Her music is extremely inventive & narrative; it turns me on."
- Michael Mollura, Music Connection
Every song is personal: it's as if she crawls into the skin of the characters that speak through her songs. In fact, her first song was written in the voice of the character she played in feature film "the four corners of nowhere," a Sundance pick soon to be released on DVD.
"Sophisticated, solid and comfortable like the seats of a Rolls Royce...Miss Raasch opens delicately for us the doors to her kingdom. One would have to be deaf -- and blind – to stay outside." - Hector Zazou
Smoldering with breathy intensity one moment and exploding into full-voiced ecstasy the next, her dynamic live sound has lit up stages from Genghis Cohen, the Knitting Factory, Room 5, and Dragonfly to legendary NYC venues the Bitter End and CBGB's. Following her acclaimed six-month residency at Tempest, she was named one of Music Connection's "HOT 100 Unsigned Artists" for 2006.
"In a world full of derivative artists, she has a sound all her own."
- Paul Ill (Christina Aguilera, Linda Perry), Paul's Pix, L.A.
Her distinctive guitar sound is based on open tunings of her own invention, and is complimented by an accomplished group of musicians. Drummer Dony Wynn (Robert Palmer) laid the foundation at Music Lane Studios (Sheryl Crow) in Austin, Texas. The production team included Austin-based producer Emile Millar (Kelly Dalton, Postfontaine, The Lapdancers), engineer Thom Flowers (Bad Astronaut, Sugarcult, Tim Cullen), and multi-instrumentalist Gar Robertson (Valentine's Revenge, Sredni Vashtar). Patrick Warren (Fiona Apple, Aimee Mann) contributes lush, vintage keyboard sounds, with Milo DeCruz (Ryan Adams, Duncan Sheik) on bass and Stevie Blacke on strings.
Recently, she recorded a song for internationally acclaimed French producer Hector Zazou. Hear her multi-layered harmonies on "J'irai Pleurer Sous La Pluie" ("Cryin' in the Rain") on Zazou's next record, "Looking in the Rear View Mirror."
She is very proud to support GINA 411, a nonprofit organization whose mission is to bring together media agencies and artists to create an avenue of hope and awareness that can guide people whose family members become missing.